So the guilt trip worked. The sweet potatoes are cooked. The bread for the stuffing is cubed, the pie crusts are made (some of them) and the onions are fried. We are on our way to a real (and gluten-free) Thanksgiving! The children all helped and they are now giggling and drinking soda or eggnog and watching Christmas movies on Child 1's laptop. Child 1 even submitted her first college application! It's been a banner day, only a little marred by the fact that I have been sick to my stomach all dang day. I was even too nauseous to eat lunch. I drank a lot of ginger ale today. And ate potato chips which oddly help with the nausea. But tomorrow I am eating Turkey and all the trimmings. I refuse to let stupid undiagnosed stomach ailments which involve gluten intolerance but also other things we can't pin down stop me from Thanksgiving. There. will. be. pie!
Husband read my blog yesterday, so here is a picture to make him happy.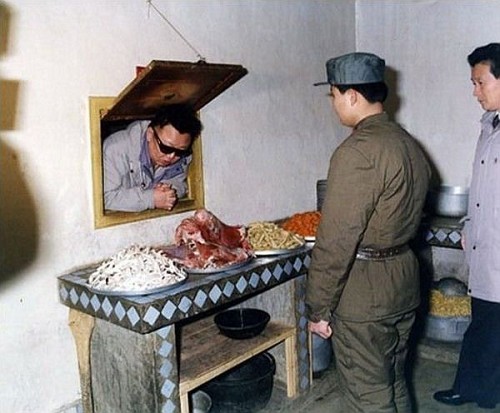 I love that there is a little window in the kitchen that looks like it was made just for the dear leader to pop through and look at things. With his sunglasses on. There will never be another leader who looks at things like him.
Tomorrow, if I remember, we're going to talk about plain language and how just because you have a large vocabulary doesn't mean you have to prove it. But for now, I'm going to bed.
This portrait
is better than a brownie. I am a big fan of art and I think part of the struggle of modern artists is to be original and have a new point of view. This portrait is a derivative point of view (Warhol) but done in a new way. All that is a fancy way of saying it's awesome.
Because that is not a painting, it is a photograph and the woman was made to look like a Warhol painting with make-up. There are more. I think my favorite is the digitized Mona Lisa, but how creative! The children would never let me make them up into famous paintings, but this is giving me ideas for next years' trunk or treat.